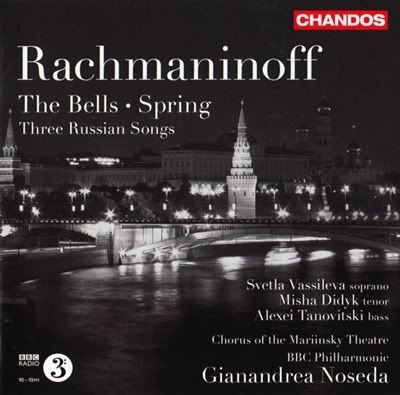 Rachmaninov - The Bells, Spring, Three Russian Songs - Noseda, Vassileva (FLAC) (2011)
EAC Rip | Flac(tracks) - cue - log | 229 MB | 1 CD | Full Scans
Genre: Classical
Composer: Sergei Rachmaninov
Performer: Svetla Vassileva, Misha Didyk, Alexei Tanovitski
Conductor: Gianandrea Noseda
Orchestra/Ensemble: BBC Philharmonic Orchestra, BBC Chorus
This is the seventh and final volume in the acclaimed Rachmaninoff series from Chandos, which has been performed by the BBC Philharmonic under Gianandrea Noseda. They are joined in this recording by the Chorus of the Mariinsky Theatre and the soloists Svetla Vassileva, Misha Didyk, and Alexei Tanovitski. The album was recorded live at this year's Proms at the Royal Albert Hall, London.
Rachmaninoff composed his 'choral symphony' The Bells in 1913. It takes its inspiration from poems by Edgar Allan Poe in a Russian translation by the poet Konstantin Balmont. The first movement, evoking the chimes of silver bells on a winter sleigh ride, is unusually cheerful for both the composer and author, while 'Wedding Bells' blends the yearning of Wagner's Tristan und Isolde with a darker and more ominous undercurrent that carries through to the end. Of this Proms performance, The Guardian wrote: 'The soloists soared, the choir bloomed, and Noseda powered the orchestra through thrilling climaxes to the funereal closing bars.'
In the brooding cantata Spring of 1902, the restlessness and lively use of percussion reflect the composer's mindset at the time: He was hungry to write music once again after suffering from a three-year bout of writer's block and depression. The work is based on a poem by Nikolay Nekrasov and describes the return of the Zelyoniy shum, or 'green rustle'. The poem tells of a husband who, fraught with murderous thoughts towards his unfaithful wife during the winter season, is freed from his frustrations by the return of spring.
The Three Russian Songs are poignant, gem-like time capsules of a Russia now irretrievably lost. They were written in 1926 when Rachmaninoff was living and exhaustively touring as a pianist in America. Vladimir Wilshaw, Rachmaninoff's old friend from student days, said of this work: 'Only a man who loves his country could compose this way. Only a man who in his innermost soul is a Russian. Only Rachmaninoff could have composed this!'
Track List:
1. The Bells, Op. 35 by Sergei Rachmaninov
Performer: Svetla Vassileva (Soprano), Misha Didyk (Tenor), Alexei Tanovitski (Bass)
Conductor: Gianandrea Noseda
Orchestra/Ensemble: BBC Philharmonic Orchestra, BBC Chorus
Period: Romantic
Written: 1913; Russia
2. Spring, Op. 20 by Sergei Rachmaninov
Performer: Alexei Tanovitski (Baritone)
Conductor: Gianandrea Noseda
Orchestra/Ensemble: BBC Philharmonic Orchestra, BBC Chorus
Period: Romantic
Written: 1902; Russia
3. Russian Songs (3), Op. 41 by Sergei Rachmaninov
Conductor: Gianandrea Noseda
Orchestra/Ensemble: BBC Philharmonic Orchestra, BBC Chorus
Period: Romantic
Written: 1926; USA
Download links:

Download(FileSonic):
http://www.filesonic.com/file/3983538944/kom38_rachma.rar

Download(Filejungle):
http://www.filejungle.com/f/4nPXHQ/kom38_rachma.rar

Download(UploadStation):
http://www.uploadstation.com/file/RVgT56d/kom38_rachma.rar

Download(FileServe):
http://www.fileserve.com/file/nJqsxQA/kom38_rachma.rar