Monster' Ball (2001) m-720p BluRay x264-SC4R
Matroska | 2.767 GB | 1280x544 | AVC @ 3 000 Kbps | English | AC3 @ 512 Kbps - 6 channels | 1h 52minutes
Genre: Drama | Romance
Set in the Southern United States, Monster s Ball is a tale of a racist white man, Hank, who falls in love with a black woman named Leticia. Ironically Hank is a prison guard working on Death Row who executed Leticia s husband. Hank and Leticia s interracial affair leads to confusion and new ideas for the two unlikely lovers.
Screenshot: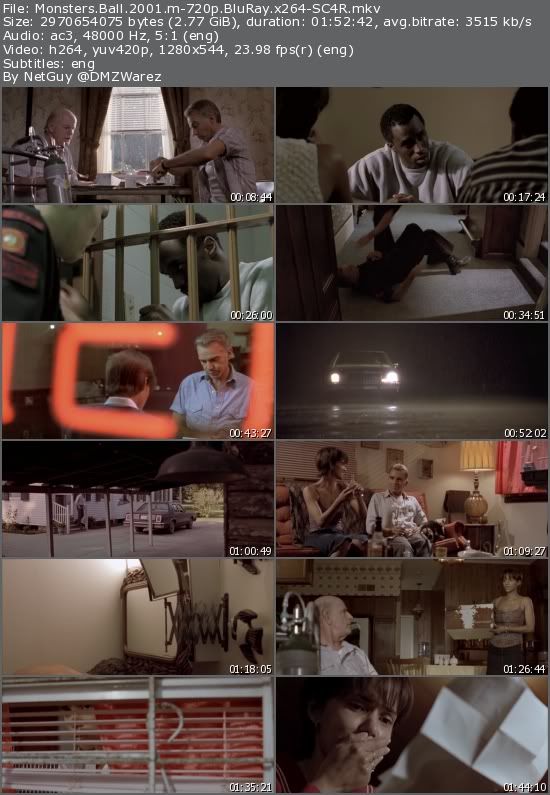 Download Links
Filesonic
http://www.filesonic.com/file/4066329024/MoBa20m72Blx2SC.part1.rar
http://www.filesonic.com/file/4066329104/MoBa20m72Blx2SC.part2.rar
http://www.filesonic.com/file/4066328874/MoBa20m72Blx2SC.part3.rar
http://www.filesonic.com/file/4066263034/MoBa20m72Blx2SC.part4.rar
http://www.filesonic.com/file/4066400654/MoBa20m72Blx2SC.part5.rar
http://www.filesonic.com/file/4066400614/MoBa20m72Blx2SC.part6.rar

Filejungle
http://www.filejungle.com/f/ruXKdm/MoBa20m72Blx2SC.part1.rar
http://www.filejungle.com/f/WaY7Un/MoBa20m72Blx2SC.part2.rar
http://www.filejungle.com/f/gTJJeC/MoBa20m72Blx2SC.part3.rar
http://www.filejungle.com/f/v3CCyu/MoBa20m72Blx2SC.part4.rar
http://www.filejungle.com/f/XCFEHs/MoBa20m72Blx2SC.part5.rar
http://www.filejungle.com/f/cQuP2r/MoBa20m72Blx2SC.part6.rar

Fileserve
http://www.fileserve.com/file/RruFgdj/MoBa20m72Blx2SC.part1.rar
http://www.fileserve.com/file/rX3YR88/MoBa20m72Blx2SC.part2.rar
http://www.fileserve.com/file/EdUmch2/MoBa20m72Blx2SC.part3.rar
http://www.fileserve.com/file/Md4XCVs/MoBa20m72Blx2SC.part4.rar
http://www.fileserve.com/file/m82vq8K/MoBa20m72Blx2SC.part5.rar
http://www.fileserve.com/file/pCcYxZm/MoBa20m72Blx2SC.part6.rar