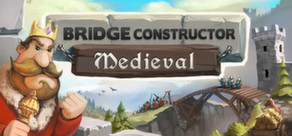 Bridge Constructor Medieval MULTI2-ALiAS
ALiAS has released the new indie game "Bridge Constructor Medieval" for Windows. Bridge Constructor Medieval turns back the clock a few centuries to the time of knights and castles. Build sturdy bridges to supply your city with provisions – or cunningly constructed bridges that collapse under the weight of attacking troops, sending the horde of enemies into the abyss below. You won't even be safe from cannon fire in the 40 brand new levels. Protect your foot soldiers and your horse-drawn carriages with covered bridges and stable pillar structures.
There are a total of five materials available to help you build the perfect bridge: wood, heavy wood, stone and ropes, along with the new addition of the bridge roof.
Throughout the exciting background story, you will familiarize yourself with the various materials on a step-by-step basis, and learn everything you need to know so that your bridges meet the requirements of the different levels.
Features:
For the first time: Build bridges in the Middle Ages!
Brand new levels and game modes for a completely new gaming experience
Design sturdy bridge roofs to protect yourself from enemy catapults
Construct cunning bridge traps to send advancing enemy troops into the abyss
Exciting and funny background story
Enjoy beautiful medieval landscapes
Achievements and leaderboards
Genre: Casual, Indie, Simulation
Developer: ClockStone
Publisher: Headup Games

Release Name: Bridge.Constructor.Medieval.MULTI2-ALiAS
Size: 32.22 MB
Install Notes
1. Unzip & Unrar
2. Run Setup.exe for install
3. Have Fun!
Download
OR
https://www.oboom.com/EZDF8WLA