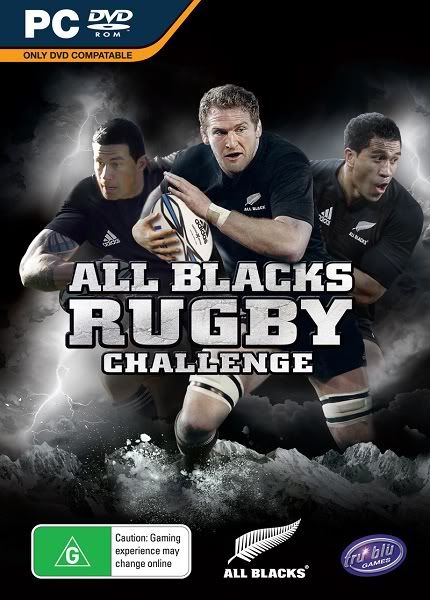 Rugby Challenge (2011/ENG/RUS/Repack by Fenixx) PC Game | Developer: Sidhe Interactive | Publisher: Home Entertainment Suppliers | 1.41 GB Genre: Sport (Rugby) / 3D
Experience the emotions and adrenaline of the rugby world-class international competitions. With the direct participation of national teams of New Zealand (All Blacks), Australia (Wallabies), United States (Eagles) and the other teams, the game includes such awards as the cup ITM, Aviva Premiership, TOP 14 Orange and many more.
Features:
* Participation of rugby legend Jonah scrap.
* Multiple game modes including training mode, quick match, mode competition and mode of long-term career.
* These multiplayer modes, the game one on one with a team of four rugby players and the competition for a place on the leaderboard.
* Create and configure players, teams and competitions.
* Broadcast from the in-game commentary from Grant Nisbett and Justin Marshall.
Recommended system requirements:
? Operating system:
Windows XP / Vista / Windows 7
? Processor:
Intel Dual-Core with 2.2 GHz or equivalent AMD processor with a clock frequency of 2.5 GHz
? RAM:
2 GB
? Hard drive space:
6 GB
? Audio device:
compatible with DirectX 9.0
? Video Card:
GeForce 8800 or Radeon HD3850 with 512 MB VRAM
Features Repack a:
- It is based on license from Home Entertainment Suppliers -
Game:
* Audio quality 100%
* Video quality is 100%
* Exclusive installer
* Installation of additional Softa (DirectX, NET Framework)
* All the way registry maintained
* Start the game through the shortcut on the desktop or the Start menu
* Start the settings for the game through the shortcut on the desktop or the Start menu
* Installation requires 256 MB of RAM
* Approximate install time 12 minutes (a, s)
Miscellaneous:
* Save the original files - Original \
* The manual is stored on the game - Manual \ Manual.Rugby Challenge.pdf
* Crack from AnTuxPucT a
Deleted:
* Logo development, the creation of video games, all languages ??except Russian - English interface and - voice
Author Repack a:
* Fenixx
Download Links
Wupload
http://www.wupload.com/file/2527542647/Rugbyfen17.part1.rar
http://www.wupload.com/file/2527498532/Rugbyfen17.part2.rar
http://www.wupload.com/file/2527542257/Rugbyfen17.part3.rar
http://www.wupload.com/file/2527168642/Rugbyfen17.part4.rar

Filesonic
http://www.filesonic.com/file/3945518404/Rugbyfen17.part1.rar
http://www.filesonic.com/file/3945519114/Rugbyfen17.part2.rar
http://www.filesonic.com/file/3945521484/Rugbyfen17.part3.rar
http://www.filesonic.com/file/3945503604/Rugbyfen17.part4.rar

Filejungle
http://www.filejungle.com/f/DXekmv/Rugbyfen17.part1.rar
http://www.filejungle.com/f/pEU8U8/Rugbyfen17.part2.rar
http://www.filejungle.com/f/JNzpec/Rugbyfen17.part3.rar
http://www.filejungle.com/f/htHGcT/Rugbyfen17.part4.rar