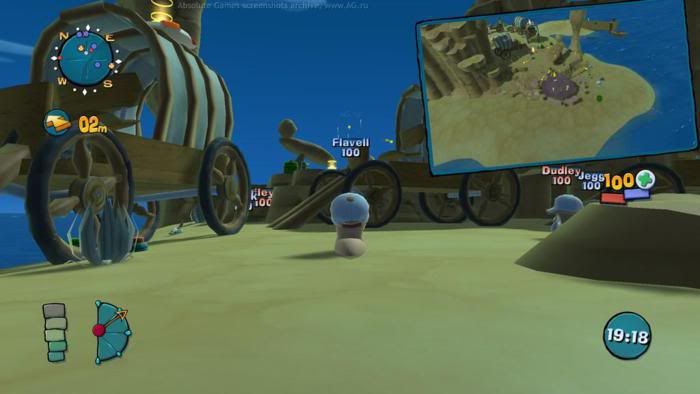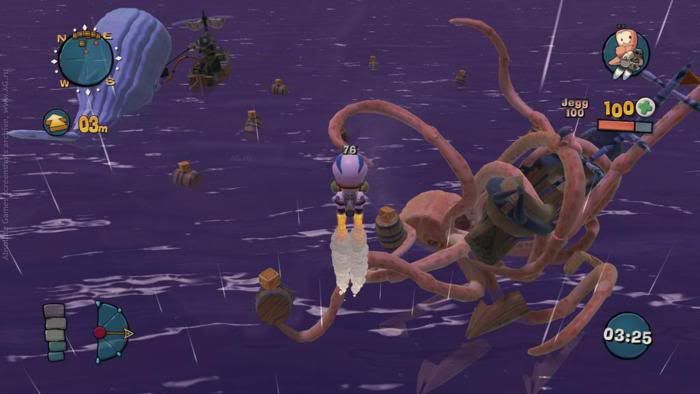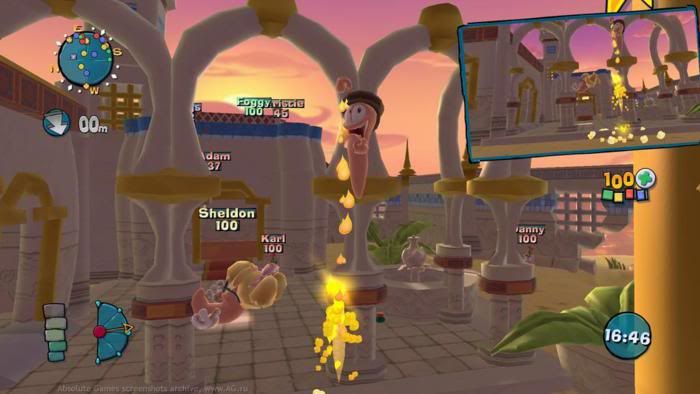 Features:
- Humor. Cynical jokes worms still neatly! Do you want to gloat, calling the worm name of his boss - write down any phrase and your fighter must pronounce it, blowing the hated enemy
- Multiplayer mode. As in the past - from two to four players who can fight with each other both on a single computer or across a network. Diversity will add five different modes of online battle
- Competition. Flight to turborantse, sniping and other tests - to score points and challenge other players by uploading your high scores to the game server
- Highly customizable. You can ask every single fighter name, choose a hat, eye color and shape and even the voice of more than 150 different varieties of
- Three-dimensional fracture. Destroy every little detail of the battlefield in the heat of battle, enjoying the improved graphics and flying debris
- Assist in the shooting. Wishes of the players were heard: Now the game has a choice - to use a fully automatic sight or advice in the direction and strength of the shot. Can the old-fashioned - to thrash at random!
- Intelligent camera. It follows the fighter who suddenly goes out of sight, and at the most opportune time to switch from one type to another
- Extra goodies. In the game you explore new trophies to be won, and all the content of games Worms 3D and Worms 4: Mayhem!
System requirements:
- Operating system: Microsoft ® Windows ® XP ™ / Windows ® Vista ™ / Windows ® 7even ™
- Processor: Intel Pentium 4 3.0 GHz or equivalent AMD Athlon 64 3000 +
- Memory: 1 GB (Windows XP) / 2GB (Windows Vista / 7)
- Video: 3D-graphics adapter with 512 MB memory, compatible with DirectX ® 9.0 and supports Pixel Shader 3.0 (Nvidia ® GeForce ® 8400 / ATI ® Radeon HD 4650 or better)
- Sound: Sound card compatible with DirectX 9.0c
- Free hard drive space: 2 GB
- Additional software: DirectX 9.0c
- Controls: A keyboard and mouse
Features RePack'a:
- It is based on the license - Team17 Software -
- Audio quality is 100%
- Video quality is 100%
- Do not cut
- Do not recoded
- Ekslklyuzivny installer
- The installer with music
- All in the game process corresponds to the licensed version.
- Compress game resources external packers do not apply.
- Changing the conversion of resources and the game does not apply
- Enclosing a tablet from THETA
- All the way registry maintained
- Requires at least 512 MB of RAM for installation
- Requires at least 2 GB of free space on HDD
- Select the interface language when you start the game
- Run the game from a shortcut on the desktop
- Setup time: ~ 4 ~ minutes
- RePacked by [SxSxL]