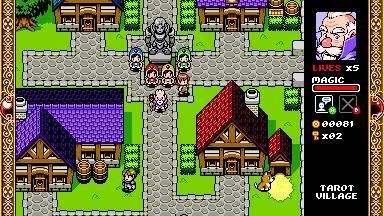 Control your magic wand to guide Cyrus and to cast magic spells in order to destroy obstacles and enemies that threaten the land. Earn gold to purchase supplies on your quest or help the grief stricken villagers rebuild their homes.
Travel to many strange places from the derelict monster infested town of Clover to Gorudo Castle atop Cauldron peak. Danger lurks around every corner so you'll need to keep your wits about you and have quick reflexes in order to survive.
Features :
• An all-new block-breaking game set in a fantasy world.
• Use your magic wand to bounce the orb and cast various magic spells.
• Over 60 levels in 5 different Worlds.
• Earn gold to buy charms or to help the citizens rebuild their homes.
• Epic boss fights.
• Multiple endings.
• Character animation by Paul Robertson.
System requirements:
• Windows XP/Vista/7
• DirectX 9c
• 2 GHz
• 1 GB RAM