[RS.com] RollerCoaster Tycoon 1 Multi8 Repack download from Extabit, Rapidshare, Rapidgator and Lumfile
[RS.com] RollerCoaster Tycoon 1 Multi8 Repack Netload, Uploaded, Jumbofiles, Glumbouploads, Bayfiles with keygen, crack, serial
Or search here
[RS.com] RollerCoaster Tycoon 1 Multi8 Repack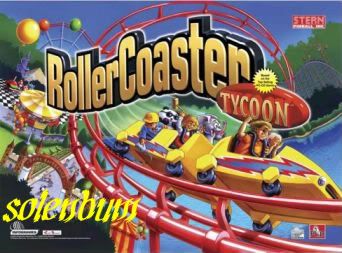 RollerCoaster Tycoon 1 Multi8 *Repack*
Multilanguage 8: Dutch, English, French, German, Italian, Portuguese/Brazilian, Spanish, Swedish
Game Info:
Quote:
RollerCoaster Tycoon is a simulation strategy computer game that simulates theme park management. Developed by MicroProse and Chris Sawyer and published by Hasbro Interactive, the game was released for Microsoft Windows on March 31, 1999 and was later ported to the Xbox game console. It is the first game in the RollerCoaster Tycoon series and was followed by RollerCoaster Tycoon 2 and then RollerCoaster Tycoon 3.
The premise of the game is to complete a series of preset scenarios by successfully building and maintaining theme parks. The key to any park is building a large amount and diverse range of rides for the visitors. Players can choose from dozens of roller coaster types and can also build log flumes, carousels, bumper cars, haunted houses, go karts, Ferris wheels, and swinging ships, among other rides. The player can also build their own roller coaster designs as well as other rides' by laying out individual track pieces, choosing the direction, height, and steepness, and adding such elements as zero g rolls, corkscrews, vertical loops, and even on-ride photos, using a tile-based construction system. The intensity and type of rides must be balanced, as visitors' preferences vary significantly from person to person; some prefer exciting rides and have high nausea tolerance levels, while others are just the opposite.
Screenshots:
System Reqs:
• Min: Pentium 90mhz, 16MB Ram, 1MB SVGA, Directx 5.0+
• Med: Pentium 200mhz, 32mb ram, 2MB SVGA, Directx 5.0+
• OK: Pentium 350mhz, 64mb ram, 4mb svga, directx 5.0+
• HDD: 150 Mb
Notes:
• Credits: Solenbum
• Nothing ripped. It's a simple repack.
• Updated to the last version: 1.08.187 *XP-compatible*
• More information -> nfo file
How to play:
• Just run play.bat
• OR run RegSetup (only the first time), then run English (or other lang)
Download (34.68 Mb - 4 mirrors):
Code:
http://rapidshare.com/files/28233980...bum.repack.exe
or
http://www.megaupload.com/?d=NEIVTHG6
or
http://www.sendspace.com/file/fwyo27
or
http://www.mediafire.com/?b4kttun2g24
RollerCoaster Tycoon 1 Multilanguage Repack (34.68 mb)
Dutch, English, French, German, Italian, Portuguese/Brazilian, Spanish, Swedish